Categories

Monday, October 22, 2012
Members are being sent to remote prison camps. Maria Alyokhina and Nadezhda Tolokonnikova to serve sentences in Russia's 'harshest prisons' in Perm and Mordovia.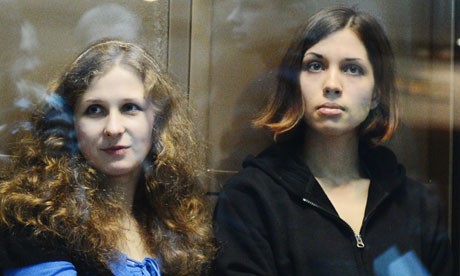 Pussy Riot band members Maria Alyokhina (left) and Nadezhda Tolokonnikova sit in a glass cage during their court hearing. Photograph: Natalia Kolesnikova/AFP/Getty
Two members of the anti-Kremlin punk band Pussy Riot have been sent to remote prison camps to serve their sentences, the group has said.
Maria Alyokhina, 24, will serve the rest of her two-year term at a women's prison camp in Perm, a Siberian region notorious for hosting some of the Soviet Union's harshest camps. Nadezhda Tolokonnikova, 22, has been sent to Mordovia, a region that also hosts a high number of prisons.
1) Pussy Riot gig at Christ the Savior Cathedral (original video) http://www.youtube.COM/watch?v=grEBLskpDWQ
2) Public group sex gig at the biology museum (NSFW): http://plucer.livejournal.COM/55710.html
(P.S. Tolokonnikova and her husband. Tolokonnikova is a pregnant one.)
3) Grocery store (yep - there were children present there NSFW)
http://kotkin-egor.livejournal.COM/655499.html , http://liveleak.COM/view?i=aea_1343072683
4) HIJACKING PUBLIC TRANSPORT, STALLING TRAFFIC, VANDALISM IN MOSCOW SUBWAY:
http://lj.rossia.ORG/users/wisegizmo/
http://newstreetuniver.livejournal.COM/184184.html
PLZ note - all these unauthorized. they were simply hijacking someones buildings and transport!
5) INTRUSION OF PRIVATE JAIL PROPERTY (BASICALLY - BROKE INSIDE OF A JAIL):
http://pussy-riot.livejournal.COM/5763.html
6)PUSSY RIOT - sexual assault, interference with the duties of a police officer, and creating a public disturbance.
http://www.youtube.com/watch?v=6T-Bcgkmo0M&feature=autoplay&list=PL6FF17B0955E27B1B&playnext=3
www.youtube.COM/watch?v=l0A8Qf893cs
http://wisegizmo.livejournal.com/52764.html
7)PUSSY RIOT - another weird unauthorized red square performance. http://ma-zaika.RU/post202301280
8)PUSSY RIOT - throwing urine onto police officers. (couldn't find a video of that one)
9) Raising and releasing 4000 live cockroaches in Tagansky district court building:
http://wisegizmo.livejournal.com/34053.html (Tolokonnikova and Samutsevuch )
10) Brought in a table and lots of food and partied in Moscow subway. Not even sure what charge
they'd get in US - tresspassing? criminal mischief? interferance with business?
http://plucer.livejournal.com/199938.html
11) Police department intrusion. Interference with business:
http://plucer.livejournal.com/88685.html
http://www.youtube.com/watch?v=i80awcTO7GA
12) Breaking and entering into Russian White house/parliament. Actually - they jumped the fence inside of the white house territory, prior - they broke into another building across the street from White House and installed some skull-painting laser there.
You can clearly see Tolokonnikova and her husband there, also Samutsevich.
http://www.youtube.com/watch?v=YAqz5VTMpyo
http://plucer.livejournal.com/112417.html