Categories

Monday, September 3, 2012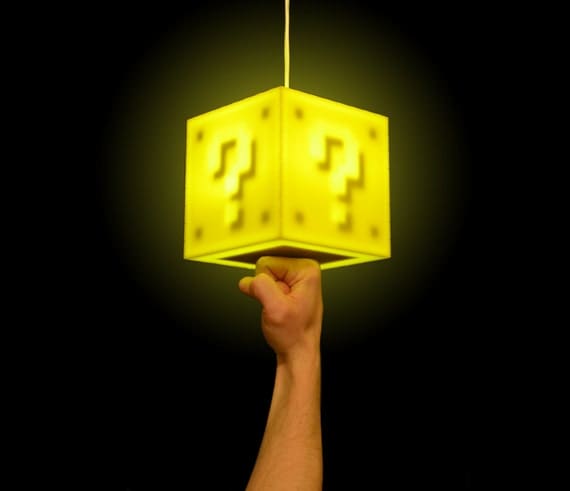 NOTE: This lamp is made to order, so sometimes it can be up to two weeks before we can ship new orders.
This custom made touch sensitive Question Block Lamp is 6 inches by 6 inches by 6 inches, and made of laser-cut plexiglass and lit from inside by energy-efficient LEDs. The lamp is very light and suspended from an integrated 11-foot power cord, so it's ready to be hung from a hook on your ceiling and plugged directly into an outlet. The internal power supply is 100v-240v compatible, so the lamp will work even abroad with just a simple plug adapter.
To turn the lamp on and off, merely punch, ahem, I mean touch, the bottom of the cube and you'll be rewarded with both light and the classic coin noise. Every eight times you toggle the light, you'll get a 1-UP! It's very bright in a dark room and still visible in daylight.
This lamp is 100% custom designed, from the exterior to the electronics inside.
Have a look at these videos to get a sense of how it looks and sounds:
http://www.youtube.com/watch?v=bBJAoxm3CQ0
http://www.youtube.com/watch?v=J05lAg8_1zY
If you would like to purchase internationally, select "everywhere else" as your shipping option.
Hey, are you a DIY-er who thinks it would be fun to put one of these together yourself and save a few bucks? Well guess what: we're offering this lamp in kit form now! Check out our other listings!
Follow us on Twitter @8BitLit to be entered into a drawing for a free lamp + stand!
Have any questions? Contact the shop owner.
Dispatches from United StatesShipping prices in AUD are approximate.
DELIVER TO
COST
WITH ANOTHER ITEM
United States
$15.00 USD
$14.92 AUD
$15.00 USD
$14.92 AUD
Everywhere Else
$24.00 USD
$23.87 AUD
$24.00 USD
$23.87 AUD