Categories

Friday, July 22, 2011
http://translate.google.com/translate?hl=en&sl=no&tl=en&u=http%3A%2F%2Fwww.dagbladet.no%2F2011%2F07%2F22%2Fnyheter%2Finnenriks%2Feksplosjon%2F17411344%2F
edit4: [1] Live Norwegian News, via Swedish Television in order to get around block.
edit8: [2] BBC article
edit11: [3] pictures from NRK
edit16: [4] BBC News stream, [5] Al Jazeera stream
edit22: [6] Probably a large car-bomb
edit24: 9 People now in the hospital, still "several" people dead. Large portions of city centre closed of due to fears that there are more bombs.
edit25: [7] Google Streetview before the explosion, this is the focus of several loops running on the news. [8] Picture of same place after explosion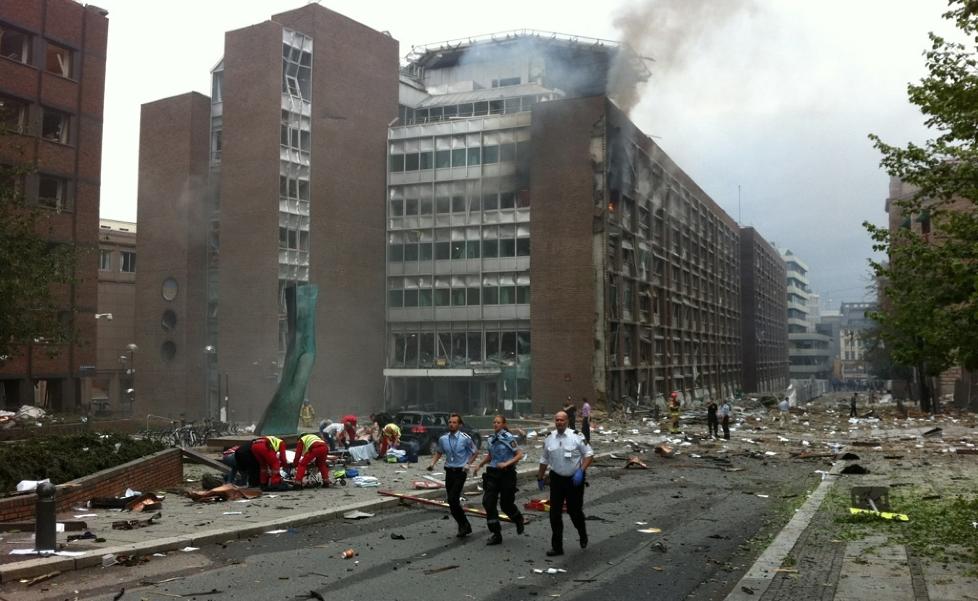 edit26: Press conference was short and improvised. Main target was oil and energy department. He confirmed that the prime minister was safe. He would not comment on the oil or justice minister, and said "We know that people are injured, but not who"
edit28: Several large commuter hotspots closed. Oslo airport working as normal, but heightened security with real police in addition to the normal G4S posers. From the hospital 10 patients, 9 seriously hurt. They think all of the most seriously injured are there. They can not comment on deaths, since deaths do not arrive at the hospital. Oslo Police press conference soon.
edit29: [9] Video of damage Watch for that car around 0:59
edit30: Paraphrased the press confrence: Explosion 15:26, two confirmed dead, 15 injured. Police have secured the scene, technicians (?), bomb squad, firemen at scene. All available police at work, policemen have their vacation cut short. Police urge the public to leave Oslo City until police have full control over situation. Police do not have a motive to go by despite all of the speculation. One or more bombs, no warning before attack, possibility of car used [I've been thinking this for a long time, no confirmation of car bomb], TV2 News station evacuated due to package. Everything that the police considers a target is evacuated. Too early to consider link to terror-suspect-case earlier in the year. 8001502800 is the hot-line for victims and their families etc. Police want tips, I missed the number. Police urge people to go home and avoid large crowds [I think it's due to fear of other bombs] The situation is not over, and the police are considering it as current/happening now That's basically it. Another press conference in about an hours. edit30b: Via nycerene: >It's (+47) 815 02 800, and the number for witnesses is (+47) 22 66 99 66.
edit31: Also today, a shooting at a summercamp for the youth section of the Labour party. Large strain on the police departments of south-eastern norway today. The police was not willing to comment on a link beyond that. [10] Aftenposten via Google-Translate
edit32: Interview with PM: thinking about victims copypasta, in contact with defense minister&justice minister. the cabinets emergency council is assembled. Not willing to speculate on motive, he will update as soon as he knows more.
edit33: More info on the summer camp shooting, several people injured. Speculation that it is a coordinated attack. Little information from the camp. The camp is the annual Youth Labour Party summercamp, Labour is the major player in the Norwegian coalation gov't.
Police confirm at least one shot, it was a man dressed as a police officer that shot.
edit34: [11] Wikipedia article on the explosion
edit35: Mini press conference by police. *There are dead people in the buildings, they have been declared dead and left by rescue personnel who are looking for the living. No comment on how many people are dead. Few leads in the rest of the city center, nothing they want to comment on. No longer fear of more explosions by police. *
edit36: Regarding the shooting, there is a police helicopter over the island where the camp is. Many campers evacuated, many people ran to swim away. A boat with a swat team recently left in a boat towards the islands. Shots still heard from the island. Reporter: There's a little war out there, many possibilities for speculations. 1 or more people behind this attack. Expert: A telltale sign of Al-Qaeda is parallel attacks 4 people shot.
[12] More on the shooting via VG, thanks [13] voxix and also [14] here from NRK
edit37: Prime minister left 15 minutes before the explosion. (Friend of dad who worked at gov't building)
edit38: Another norwegian media is being evacuated, [15] aftenposten. This is in addition to TV2 who were the first to say that it was a bomb. Via [16] Coitastic 3 people are arrested at Oslo Airport. I'm looking for a report on this.
edit39: [17] This is an illustrated map of the Oslo bomb damage The red area marks the extent of the shattered glass, but I've spoken with people who say that glass was shattered much further away than that. From what I heard about twice the distance (Stortingsgata ved Ferner Jacobsen).
edit40: I previously stated that I was unsure of whether or not the Oil minister was injured, being that it was the oil department that was hit. [18] Aftenposten confirms that all members of the cabinet are alive
edit42: [19] Shooter arrested at the summer camp Utøya, shooter was described as blonde and tall (between 185 and 190 cm [eat your heart out CaptainImperial])
edit43: It seems the event is over, I've reached the character limit. If anything else happens I'll start updating. Now we have time for speculation of who thought this would be a good idea. It seems the innocence of my country is gone, I really hope the days of pointing out how paranoid the US was from my perspective are not gone.
edit44: Just some speculation. There are several reasons that give motives to attack norway: * Norway is part the ISAF force in afghanistan * Norway recognizes the state Israel, and has been active in the work for peace in the region. Oslo-summit etc. * A Norwegian newspaper re-published the Muhammed caricatures. * Norway is active in the Libya war. Before the war Norway had large oil-interests in Libya, and still do. * A Norwegian firm has oil interests in Iraq and several other countries, and itself is an oil based economy. It seems that the oil-ministry was the hardest hit by the attack. * [20] Mullah Krekar has a habit of making indirect threats against Norway, which he lives in. Australia has wanted him extradicted for some time. [21] He says that he is in shock * Norway is possibly regarded as an easy target, look at how shocked the nation is. * Norway has decided to recognize the Palestinian state.
But hey, if you are pissy enough to organize this finding a motive is probably something you don't have problems with.
edit45: [22] Several dead at Utøya
edit46: [23] Death count from bomb at 7, two seriously injured
edit47: Unconfirmed rumors that 25-30 dead at Utøya. [24] Mysterious package found near train line to Oslo Airport
edit48: I'm starting to think that this was a lone wolf. I am doubting that it was an islamist attack. I think it is closer to the unabomber. One crazy guy. [25] It is believed that the shooter was also at the bomb site.
edit49: Confirmed that shooter is Norwegian.
edit50: [26] This is a NSFL image from Utøya