Categories

Sunday, June 14, 2009
Wicked Lovely - Tattoo Faeries 1
High school junior Aislinn and her grandmother have followed strict rules all their lives to hide their ability to see faeries because faeries don't like it when mortals can see them, and faeries can be very cruel. Only the strongest faeries can withstand iron, however, so Aislinn prefers the city with its steel girders and bridges. She takes refuge with Seth, her would-be lover, who lives in a set of old train carriages.
But now Aislinn is being stalked by two of the faeries who are able to take on human form and are not deterred by steel. What do they want from her?
One is Keenan, the Summer King, who has been looking for his Queen for nine centuries, bound by the rules and rituals that govern his quest. The other is Donia, a victim of those rules, consigned to the role of Winter Girl when she failed Keenan's test, yet still in love with him. Certain that Aislinn is the woman he must marry, Keenan shows up as a charismatic new student at her high school, unaware that she sees his true form. He's determined to court her and is puzzled by her rebuffs. Suddenly, none of the rules that have kept Aislinn safe is working anymore, but things aren't going as Keenan expects either. Both will have to change, make startling compromises and enlist surprising allies if they want to break free from the wicked game that has ensnared them.
Their greatest challenge will be to avoid the fatal traps laid by Keenan's mother, the Winter Queen. She will lose her power if Keenan finds his mate, and she will do anything to stop this. Unfortunately, she's a little too over the top to be totally threatening, a campy version of Hans Christian Andersen's Snow Queen -- part Disney witch, part Endora in "Bewitched." But this didn't stop me from devouring the book.
Ink Exchange - Tattoo Faeries 2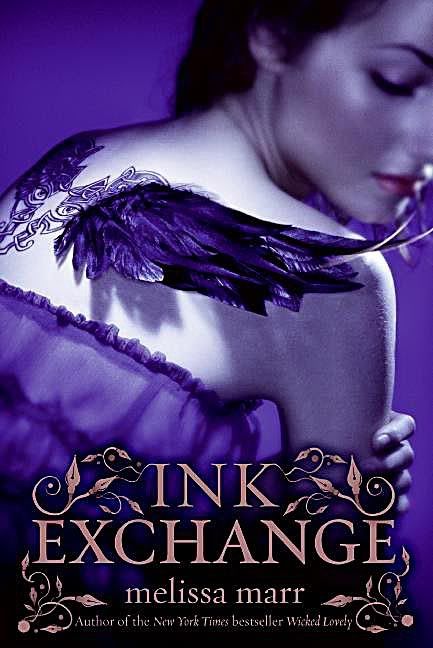 The new peace between the Summer King and the Winter Queen isn't good for everyone: those of the Dark Court, who feed on faeries' destructive emotions, are dangerously weakened. Irial, King of the Dark Court, needs a solution, and he finds one in the Summer Queen's mortal friend Leslie. Tormented by memories of abuse, Leslie wants nothing more than to reclaim her body by getting a tattoo, but the enchanted design she selects provides Irial with a direct link to mortals' emotions. The tattoo binds Leslie and Irial together even as a third faerie works to prevent their destructive yet seductive connection. All of Marr's characters are complex, defying easy description and evoking sympathy and horror in equal measures, and all cast a thrall that will leave readers willing to forgive plotting that can be difficult to follow. This dark fantasy about survival and transformation is as mesmerizing as its urban faery subjects.
Fragile Eternity - Tattoo Faeries 3
Fragile Eternity, Melissa Marr's sequel to the New York Times bestselling Wicked Lovely and Ink Exchange, returns to Huntsdale, where faeries and mortals intermingle, wreaking continual havoc on each other's lives. Aislinn, who became a faerie in the first book, now has to deal with the awkward--verging on impossible--position of still being in love with her mortal boyfriend Seth, whom she can't even touch without burning. To complicate things further, as the new Summer Queen, Aislinn is eternally bonded to Keenan, the Summer King, and the attraction between them is palpable and constant. In the doomed loves that permeate these books, Marr deftly explores the essence of longing as she questions notions of fated love. Her characters are strong, with even the nastiest of the faerie troublemakers coming through as absolutely compelling and sympathetic. And their situations are rife with conflict, from the impossible mortal-faerie relationships to the ancient familial and courtly spats within the faerie realm. In the hands of a less talented writer, these complexities could easily veer into soap opera, but Marr's dark sensibility imbues the series with an eerie, sexy, mysterious ambience that gives it just the edge it needs.